Whale Waters Tonga is the idea of creating a world class, self sufficient eco dive retreat, focusing on scuba diving, free diving, yoga, meditation and health.
It is also designed to be an information hub for interested visitors to get the best and latest information, travel deals and booking advise.
Whale Waters Tonga is based on vegan principles, environmental sustainability, minimum impact, waste free, recycling and self sufficiency.
At this stage, Whale Waters Tonga is a concept, following the success of the Passeck family in remote Exmouth, the gateway to Ningaloo Reef in Western Australia. Axel & Eske started in 1997 the then 2nd hotel in Exmouth and were heavily involved in creating a world class eco-tourism industry, based around Whale Sharks, diving and natural attractions the region has to offer.
Over 20 years they created and operated the Sea Breeze Resort by converting a former US Chief Petty Officers Quarters, inside the Harold E Holt Naval Base. But now their lease ends in December 2017 and unfortunately Defence is not giving them an option to continue their highly successful business.
In search of a new challenge they visited Tonga and immediately fell in love with the sheer beauty of Vava'u, it's crystal clear waters, people and of course, the Humpback Whales! Axel has a special connection with Humpback Whales he developed during his 25 years of diving and 4 years running Humpback Whale Watching Tours in the Exmouth Gulf, skippering his own 12.5 metres dive charter cat.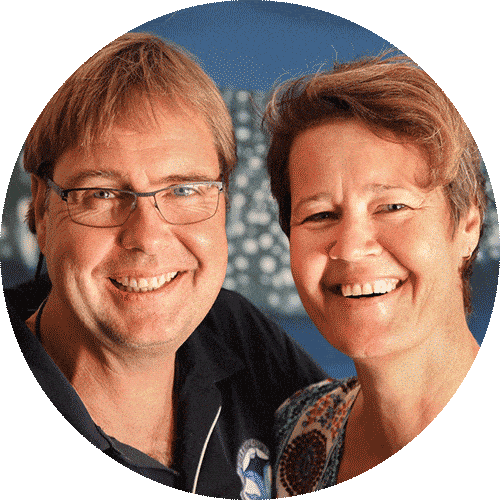 Axel & Eske Passeck
Our goal is to provide our guests with the highest customer service and satisfaction possible, with a minimal environmental footprint at the best possible price!
We are looking forward staying in touch and keeping you up to date with our progress, the challenges we will face, the solutions we come up with and maybe even ask for your input, making it a two way interaction on what we will be creating.
Axel Passeck
Whale Waters Tonga
Enjoy this view from our property on Vava'u!
A tropical paradise with direct access to Koko Bay and its main diving and snorkelling.
We are currently in the planing stage and aim to open in 2019.
Stay in Touch!
If you are interested in the progress of this project or in any information about Tonga, its islands, eco-tourism and swimming with Humpback Whales, please join our mailing list today: